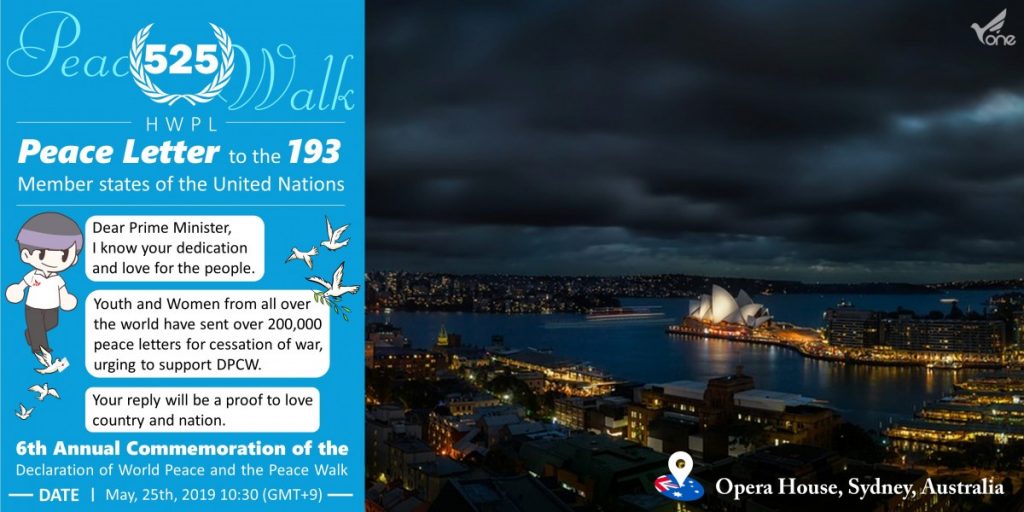 If something happened in 126 places in 77 countries around the world, what would you do? Aren't you curious? What is going to happen to people? What if the reason they're gathering that isn't making money, and it's really personal? The reason is "PEACE." Can you believe it's just that?
That means there are so many people who want peace. Looking around now, no one wants a war. But the majority of people live their daily lives. They are the ones who realize that the world is too big and doesn't move my way.
As we grow up, everyone seems to be like this. When I was a teenager, I thought I could do everything, but when I became an adult, I put it down one by one. Increasingly, I realize that there is less I can do. Those who are at their disposal are only the top few percent. It's not a pity. They just live their lives in their own way.
But there are those who realize that one voice has no power, but one voice that has become one has enormous power. HWPL Australia held the first one-of-a-kind Peace Festival at Centenary Square, in Parramatta.
Link: https://theworldobserver.com.au/2019/06/07/spreading-a-culture-of-peace/
This year, on the 25th of May, the HWPL Australia Peace Festival, 'Spreading a culture of Peace', was held to re-iterate and celebrate the Article 10 of the DPCW.
HWPL Australia Peace Festival
Link: https://theistimes.com.au/hwpl-spreading-a-culture-of-peace/
Imran Maqsood, Founder of the Faisalabad School for Peace shared an account of the pivotal role HWPL and the Faisalabad School for Peace has played in creating and implementing peace education program in schools. The crowd was also addressed by powerful speeches by Ashak Nashwani AM, Founder of the Ismailli community in Sydney, Dr. Yadu Singh, Chairman, Federation of Indian Associations NSW, Abbas Raza Alvi, Founder & President, Indian Crescent Society of Australia.
These precious moments of the peace festival were extensively captured by our community-media partners, Ashok Kumar, Editor, The Indian Sub-Continent Times, Harmohan Walia, Associate Editor, Desi Australia and President, Global Organisation of People of Indian Origin (GOPIO), Mamdouh Sukkarieh, The World Observer and Indian Link Radio.
Not only Australia, but there were many articles from other countries.
Peace is up to you :0 Good luck!