Is the Tunisia peaceful?
Tunisia is a North African country bordering the Mediterranean Sea and Sahara Desert. The FCO says: "Terrorists are still very likely to try to carry out attacks in Tunisia. Security forces remain on a high state of alert in Tunis and other places. You should be vigilant at all times, including around religious sites and festivals."
Conflicts of Republic of Tunisia
Bizerte crisis (July 19, 1961 — July 23, 1961)
Tunisian revolution (December 18, 2010 — January 14, 2011)
ISIL insurgency in Tunisia (June 26, 2015 — ongoing)
On 27 June 2019, two suicide blasts took place in Tunis, the capital of Tunisia. The first explosion on Thursday involved a suicide bomber who targeted a police patrol on Tunis's central Charles de Gaulle Street. One police officer was killed, while another was wounded as well as three civilians, according to the interior ministry. In total, 127–173 were killed and 84–126 were wounded.
What is ISIL (ISIS, IS)?
The Islamic State of Iraq and the Levant (ISIL) is also known as the Islamic State of Iraq and Syria (ISIS) and officially known as the Islamic State (IS). They are under a lot of criticism. The UN estimated that 5,000 Yazidis were killed by ISIL during the takeover of parts of northern Iraq in August 2014. The problem of child soldiers, sexual violence and slavery is so serious. In 2018, Nadia Murad (Yazidi girl) awarded the Nobel Peace Prize for "their efforts to end the use of sexual violence as a weapon of war and armed conflict".
In late December 2015, nearly 70,000 Indian Muslim clerics associated with the Indian Barelvi movement issued a fatwa condemning ISIL and similar organisations, saying they are "not Islamic organisations". Approximately 1.5 million Sunni Muslim followers of this movement have formally decried violent extremists. Regardless of religious beliefs, human rights violations are too serious.
In Tunisia, Peace must be Coming

On May 29th, 2019, Mohamed Riadh Aissaoui presented the HWPL True Story to Ms. Raja Ben Slama, the chief director of the National Library of Tunisia. Mr. Aissaoui currently lives in Tunisia and is the director of the OUDH(University Organization of Human Development). He explained to her about HWPL, the IPYG, and the DPCW, an answer to peace. As a response, Ms. Raja Ben Slama expressed her gratitude. And she said HWPL's Legislate Peace Campaign and IPYG Peace Letter Campaign will make constructive influences on future generations.
Why is HWPL an "Answer to Peace"?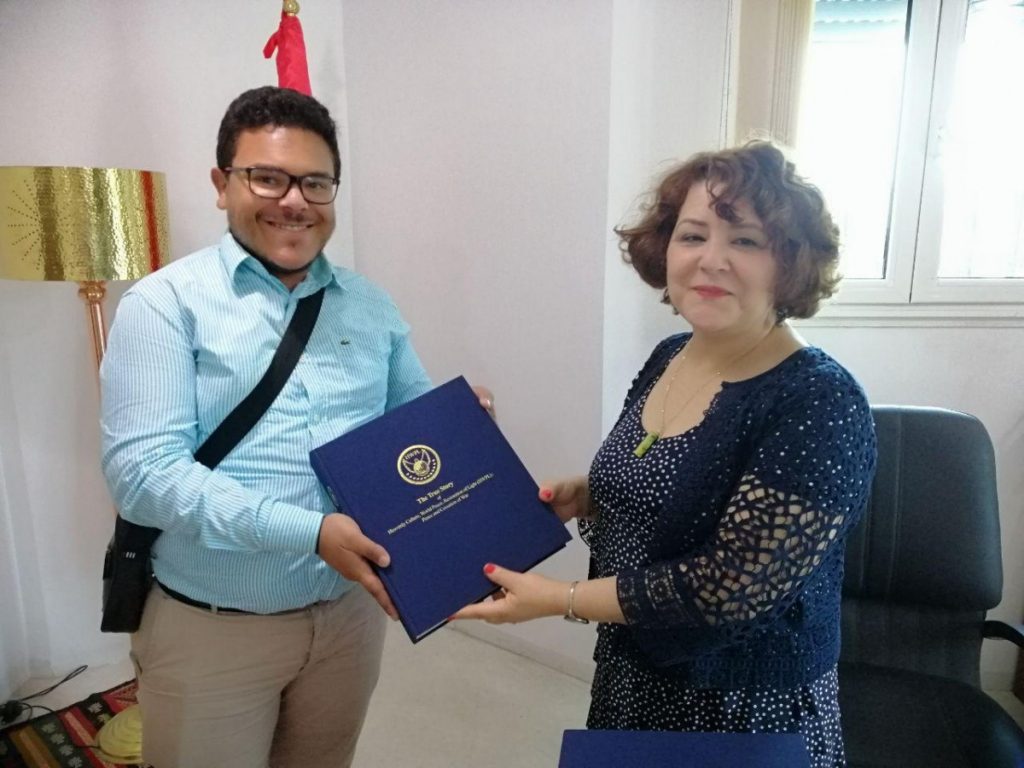 The new international law DPCW made by HWPL is supported by continents around the world. It is supported by former and incumbent presidents, ministers, professors and heads of organizations, who want to make peace as soon as possible. The problem with existing international law is that it is not legally binding. HWPL, supported by 3.7 billion women (IWPG) and 1.8 billion young people (IPYG), is bound to be the answer to peace. Let's do it together~
Reference:
http://www.hwpl.kr/en/news/view/190805418/0/TheTrueStoryofHWPLFurnishedintheNationalLibraryofTunisia
Peace is up to you 🙂 Good luck!