National
Police

College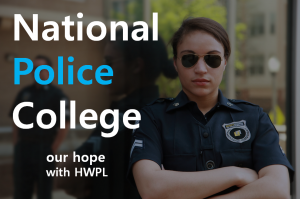 Every year, the National Police College (NPC) holds a symposium on peace, security and justice as part of its Police Senior Command and Staff Course (PSCSC). The PSCSC, which brings together senior Police students from across Africa, offers a Masters of Arts in Peace Studies and Conflict Transformation.
This year, Theme of the Sixth PSCSC: "Mainstreaming Human Security in the New Security Landscape: A Holistic Approach to Sustainable Peace and Development."
What kind of results before and after? They can broaden their understanding from experts, policymakers, academicians and key actors in their local and understand how it impacts sustainable peace and development. What's more surprising is that after classroom work, they go a study tour that is aimed at exposing them to practical aspects of strategic policing.
HWPL

: Substantial

&

Powerful
  I think NPC really want sustainable peace and substantial results. And It would be great if the participants could learn practical things. If so, I would recommend HWPL. They're growing incredibly and fast. The objectives of HWPL is to end war. You can think 'Is it possible?'. But you can understand when you see the leader's cry and their movement. HWPL's 3 core Peace initiatives are Law for Peace, Alliance of Religions and Peace Education. There are a lot of posts on my post, so you can look for them. If you really love peace, you will cooperate. Because HWPL has really strong power. And currently peace education made as teaching materials will provide substantial & practical learning for more students.
more official info : http://hwpl.kr/
WARP Office Journal : http://hwpl.kr/en/journal/view/180521298/
MILESTONE of
DPCW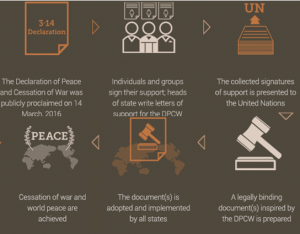 In May 25, 2013 The Declaration of World Peace was proclaimed.
In Sep 16-19, 2014 World Alliance of Religions' Peace (WARP) Summit
ln Sep 18-19, 2015 During the 1st Annual Commemoration of the WARP Summit, the HWPL International Law Peace Committee was inaugurated.
In Nov 12-13, 2015 Committee meeting convenes to draft the Declaration of Peace and Cessation of War
In March 14, 2016 New international law was proclaimed by HWPL International Law Peace Committee(more info). It was called DPCW(Declaration of Peace and Cessation of War). (DPCW is here)
In Sep 17-19, 2016 the 4th HWPL International Law Peace Committee Meeting was held on the topic of "Cooperation with States for the Development and Introduction of the DPCW to the UN"
Now '

Legislate peace campaign

'
"Now
 630

events 

176

countries 

1 million

participants"

Ref : http://www.newtimes.co.rw/news/police-college-annual-symposium
Peace

is up to you

:0

Good luck

!