'Intercultural Dialogue for Peace and Development'
– UN Officials and HWPL to Share Cultural Diversity for Dialogue and Development –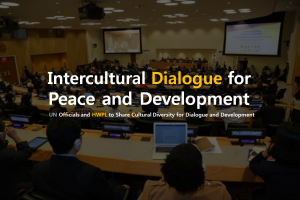 'Intercultural Dialogue for Peace and Development' Held at UN Headquarters to Create a Foundation of Understanding and Tolerance. In commemoration of '2018 World Day for Cultural Diversity for Dialogue and Development', this dialogue was attended by heads of the social organizations, religious leaders, women groups, youth, and media. Around 145 representative officials to the United Nations of the respective countries gathered to hold a dialogue on the agenda of peace and development at UN Headquarters in New York on May 31. Canada, Austria, Colombia, the Republic of Senegal, Korea and etc. It's like the world gathered in one place.
What is the necessity of world?
How does the world go now? The necessity of the measure arises for integrating cultural diversity into development frameworks and policies. According to the trend of world, this conference aimed to reinforce international cooperation to ensure intercultural dialogue as a foundation for the effective exercise of universal human rights. In fact, many of the leaders told their experiences.
H.E. Mr. Francisco Alberto Gonzalez of Permanent Representative of the Permanent Mission of Colombia stated, "My countries have gone through one of the longest armed conflicts in our hemisphere. Two Colombians, one with a strong state presence, and another with a series of inequalities and no opportunities. That is why recognizing our opportunities and dialogues are needed. We, a very diverse country, know by experience that disarmament is not enough to create peace. We must not underestimate the need for peace and stable development."
---
The Answer of Peace : DPCW
---
Receiving Standing ovation
!!!
There is no path to peace. Peace is the path. DPCW is the path!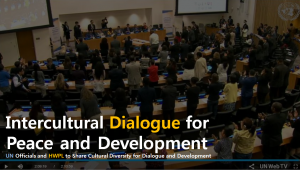 Attended as a special invitee, Chairman Man Hee Lee of HWPL, an international peace NGO, said "I've visited all around the world and had a number of agreements with the former and current presidents, the chief justices, and members of the National Assembly to end the war together. All leaders in each country should sign the agreement for the international law to achieve peace if they love the country and the people. To do this, the United Nations must work together to accomplish the task of peace with its spirit of peace at its inception." After this truthful speech, everyone gave a huge standing ovation!!! I think it's because everyone wants peace!
---
Let us all become messengers of peace and leave peace as a legacy to future generations. – HWPL
---
The Walking of
HWPL

: Substantial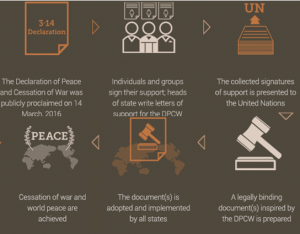 In May 25, 2013 The Declaration of World Peace was proclaimed.
In Sep 16-19, 2014 World Alliance of Religions' Peace (WARP) Summit
ln Sep 18-19, 2015 Convention on the Renunciation and Cessation of War and International Armed Conflicts
ln Nov 12-13, 2015 Committee meeting convenes to draft the Declaration of Peace and Cessation of War
In March 14, 2016 New international law was proclaimed by HWPL International Law Peace Committee(more info). It was called DPCW(Declaration of Peace and Cessation of War). (DPCW is here)
Now 'Legislate peace campaign'
"Now 
630

events 

176

countries 

1 million

participants"
Peace

is up to you

:0

Good luck

!