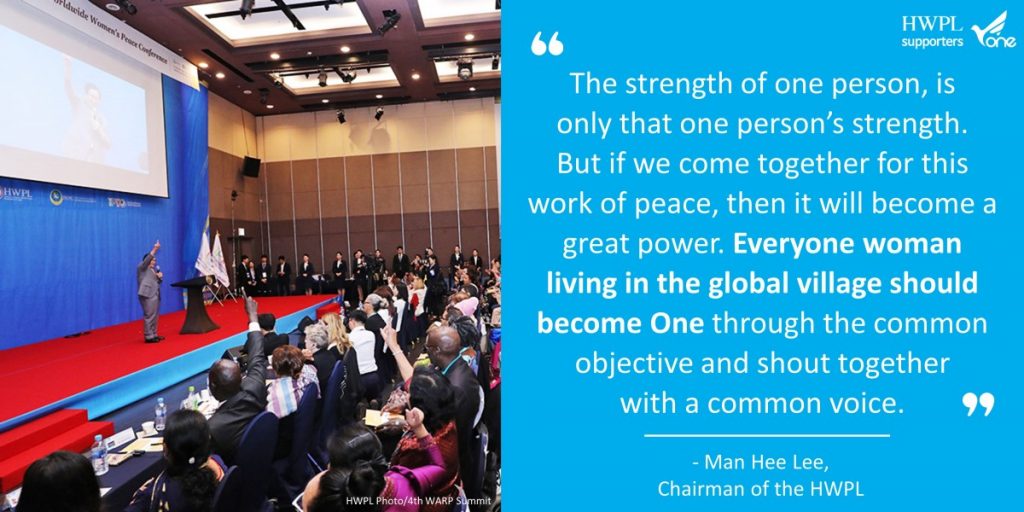 On September 19th, '2018 IWPG International Women's Peace Conference' was held by female leaders from around the world as part of the 2018 HWPL World Peace Summit: 4th Anniversary of the WARP Summit. In the conference themed, 'The Role of Women to Realize Peace in the Korean Peninsula and World Peace'', Former President, Professor, current and former heads of state and First Ladies, ministers, members of the National Assembly, and 380 female leaders gathered to find practical solutions for peace.
Lastly, Chairman Lee of HWPL gave a special request to those in attendance stating, "The strength of one person, is only that one person's strength. But if we come together for this work of peace, then it will become a great power. Everyone woman living in the global village should become one through the common objective and shout together with a common voice. You should write letters to former and current presidents. We need to write not only to our president but to those all over the world."
He then continued, "Also you should tell not only the people of your own countries but the people from other countries as well about the method of becoming one together with the women of the IWPG. Two is more powerful than one, but if there are many it will never be broken. Since the goal is peace, nothing is more precious and important than the work of making the world of peace that can be left as a legacy for future generations. I believe in the women's group and the youth group." After finishing, he shouted "We are one!", urging all participants to become one.
He is a really qualified person to say these words when we think Man Hee Lee biography. Now, what is left is our action! We Are One!
Reference: http://hwpl.kr/en/news/view/180922343/12/2018IWPGInternationalWomen%E2%80%99sPeaceFemaleLeadersoftheWorldFindtheRoleofWomenforPeaceintheKoreanPeninsulaandWorldPeace
Peace is up to you :0 Good luck!