Is peace close to us? Isn't it just words?
I think peace is the highest thing a man can do. Why do people start a war? I think it's because of selfishness. It's about falling into a sweet swamp. The swamp people don't care about others at all.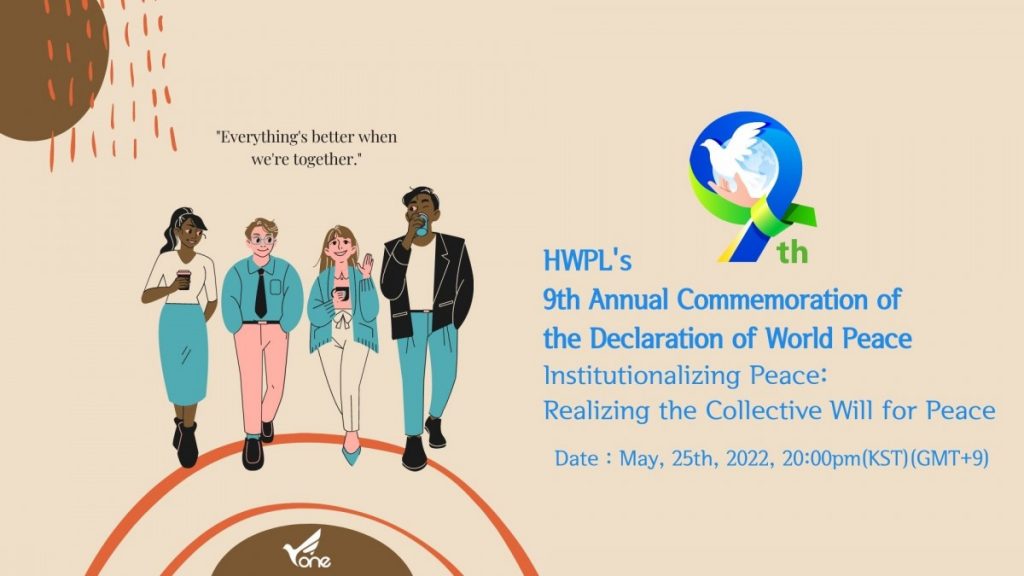 Isn't it hard for us to make ends meet? Why should we care about people who don't even know their faces? Here is the answer.
HWPL's 9th Annual Commemoration of the Declaration of World Peace will be held online on 25 May 2022.
On 25 May 2013, not only was HWPL established, but Chairman Man Hee Lee drafted and proclaimed the Declaration of World Peace. The declaration embodies basic principles to build a peaceful world, and seeks to guarantee peace through legal instruments such as international law.
The annual commemoration was planned to remember the spirit instilled in the Declaration of World Peace proclaimed before the World Peace Gate in Seoul, South Korea, on 25 May 2013, and the meaning behind the civil society-led Peace Walks held worldwide.
The world today is seeking ways to promote the institutionalization of peace to safeguard lives and ensure safety from the threats of daily conflicts and war.
International organizations such as the UN, the AU, and the EU are widening research on normative guidelines to peacefully address current conflicts.
---
HWPL's 9th Annual Commemoration of the Declaration of World Peace

Institutionalizing Peace: Realizing the Collective Will for Peace
---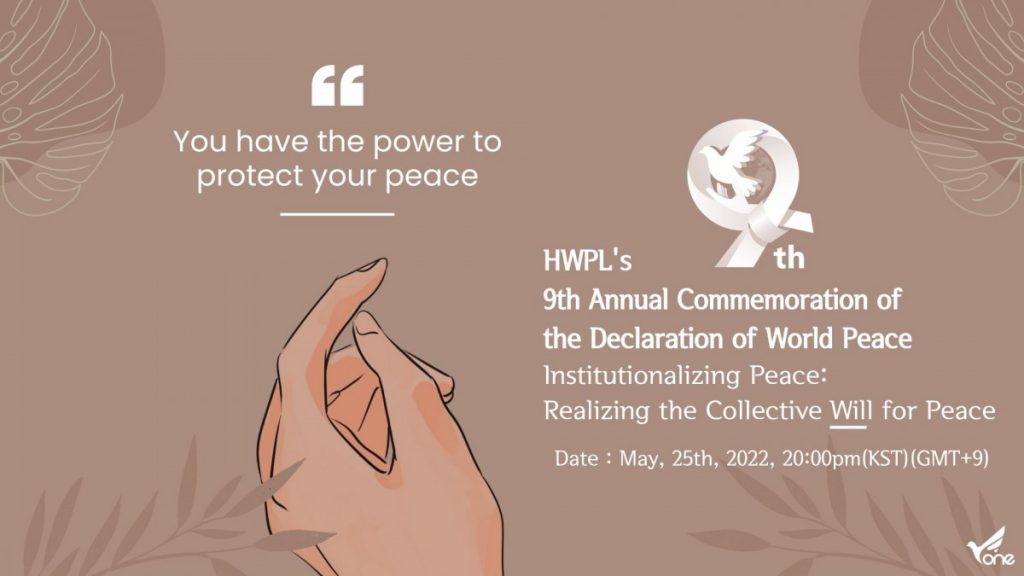 This year, HWPL has proposed the institutionalization of peace as a process to establish stable and sustainable peace through the collective will for peace. The collective will to create a world free of war comes from the individuals and groups who engage in the concerted efforts for peace that transcends national borders.
The 9th Annual Commemoration of the Declaration of World Peace will provide the proof that having citizens continue to march on is the engine for us to get closer to peace even amid the crisis of illnesses and wars.
To this end, various peace projects HWPL is carrying out together with diverse partners will be explained as cases of realizing the collective will and institutionalizing peace.
PROGRAM TIMETABLE
Opening
Congratulatory Messages
Progress Report, Commemorative Speech by IPYG General Director
Peace Journalist Report
Forming and Putting into Action a Common Spirit for Religious Harmony & Peace
Fostering Citizens of Peace for the Institutionalization of Peace: HWPL Peace Education in India Using Metaverse
Peace can be Realized by Action
Commemorative Address

Chairwoman of International Women's Peace Group (IWPG)
Chairman of Heavenly Culture, World Peace, Restoration of Light (HWPL)

Closing
If anyone has read this article and watched the HWPL video, I salute you. You are enough to be a messenger of peace. 🙂

Peace is up to you :0 Good luck!