How will "US Iran Crisis" play out in 2020?
The assassination by the US of Iran's most powerful general, Qasem Soleimani, has caused an escalation in tensions between the two countries.
In the wake of an Iranian ballistic missile attack on air bases which house US forces in Iraq, U.N. Secretary-General Antonio Guterres reiterated his call for the United States and Iran to stop the conflict and pursue peace.
President Trump's speech after Iran's strike
As a reaction to Iran's strike, Donald Trump said "Iran has been the leading sponsor of terrorism, and their pursuit of nuclear weapons threatens the civilized world. We will never let that happen.
Iran's hostilities substantially increased after the foolish Iran nuclear deal was signed in 2013, and they were given $150 billion, not to mention $1.8 billion in cash. Instead of saying "thank you" to the United States, they chanted "death to America."
Iran must abandon its nuclear ambitions and end its support for terrorism. The time has come for the United Kingdom, Germany, France, Russia, and China to recognize this reality.
Today, I am going to ask NATO to become much more involved in the Middle East process.
Finally, to the people and leaders of Iran: We want you to have a future and a great future — one that you deserve, one of prosperity at home, and harmony with the nations of the world."
These are just a summary of what I think is important in his speech. If you want to read the full speech, just click on the video and the link below.
Reference: Remarks by President Trump on Iran
UN Secretary General said "The world cannot afford Wars"
In a brief media address, Guterres said "we are living in dangerous times" worldwide as "geopolitical tensions are at their highest level this century."
Also in a statement released by his Spokesperson, Stéphane Dujarric, on Monday António Guterres made a passionate appeal for peace.
His message to world leaders was simple: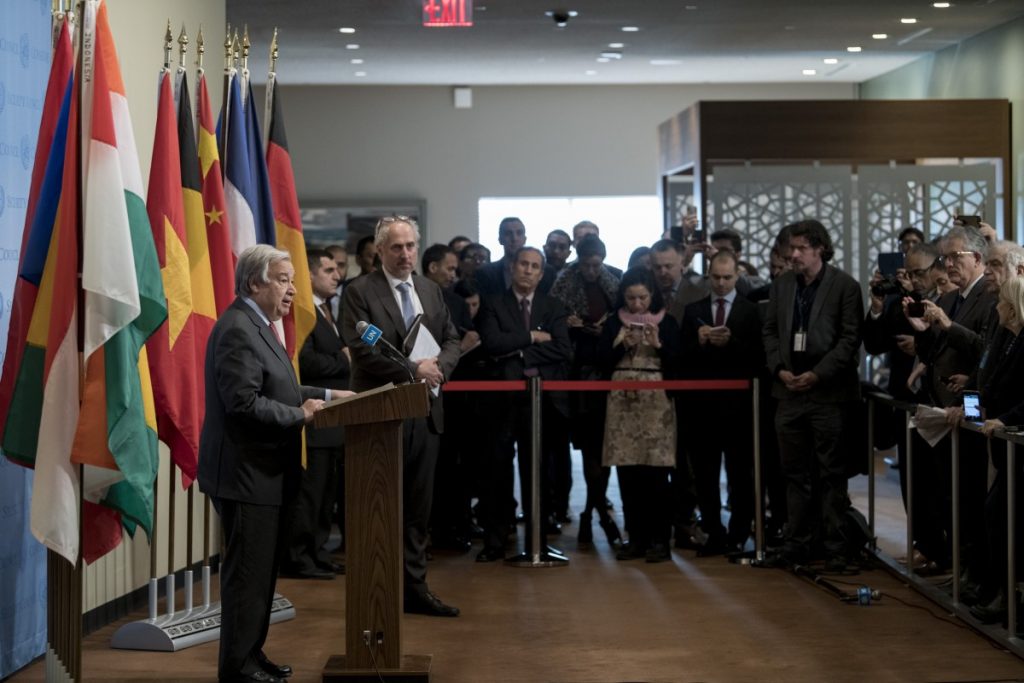 "Stop escalation. Exercise maximum restraint. Re-start dialogue", and "renew international cooperation."
This appeal remains as important today as it was on Monday.

For his part, the Secretary-General will continue his active engagement with relevant actors. "It is our common duty to make every effort to avoid a war in the Gulf that the world cannot afford.  We must not forget the terrible human suffering caused by war.  As always, ordinary people pay the highest price."
I condemn the Iranian missile attacks on US & @coalition forces in Iraq. #NATO calls on Iran to refrain from further violence. Allies continue to consult & remain committed to our training mission in Iraq. pic.twitter.com/6PdXMZxSNB

— Jens Stoltenberg (@jensstoltenberg) January 8, 2020
Jens Stoltenberg, NATO Secretary General, said like this.
The use of weapons must stop NOW to give space for dialogue. We are called upon to do everything possible to rekindle talks. There cannot be enough of that.
We have established and timetested relations with many actors in the region and beyond to de-escalate the situation.

— Ursula von der Leyen (@vonderleyen) January 8, 2020
Ursula von der Leyen, President of the European Commission, emphasized the importance of not using weapon for dialogue. European countries such as Britain and France have also appealed for easing tensions.
I also think we can't afford war. It's really unclear whether our future will be a tragedy or a happy one. In fact, our daily lives begin again tomorrow. I don't think we have many options. Forget it or fight it. I hope we risk our lives for peace.
Because peace is just as valuable, and war is too painful to be explained in words. The aftereffects are enormous. Who can be held accountable?
Reference: https://news.un.org/en/story/2020/01/1054961
Peace is up to you :0 Good luck!